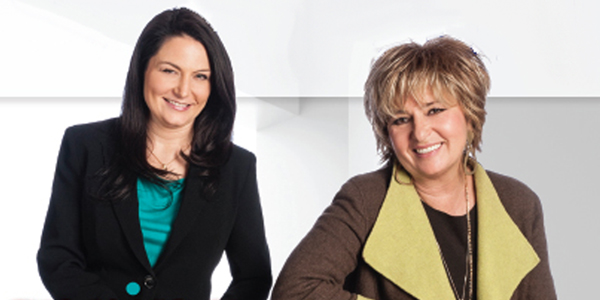 Innovative Winnipeg Women
Women are an innovative bunch and have invented such famous products as windshield wipers, disposable diapers and chocolate chip cookies (see Article, Top 10 Inventions by Women). But innovative women don't just exist in history. They are all around us and Manitoba has its share of pioneering women. In this article, we will get a glimpse into the innovative minds of Winnipeggers Marta Mikita Wilson and Laurel Skuba. These two women clearly understand what it takes to challenge the everyday and are continually innovating so they can realize their big ideas and big visions.
Marta Mikita-Wilson
SodaStream
Marta is on a quest to create a better planet by reducing the mountains of plastic bottles and pop cans filling up landfills and swirling around our oceans and waterways, choking fish, marine mammals and snaring birds. Her first innovative venture was to bring the SIGG bottle to Canada. You might know the SIGG as "the world's toughest water bottle." It is a safe, stylish alternative to plastic water bottles. Ultra-lightweight, it is made from a single piece of aluminum with no seams. It is BPA free, 100% recyclable, eco-friendly and of course, fashionable! Marta saw the opportunity for this great product in 2003 and became the Canadian distributor for the bottle in 2005. By 2008 she had built the business to the world's second largest country distribution per capita with a business growth of 1200%.
Unfortunately for Marta, SIGG Switzerland made a decision to take the Canadian market back and this new reality made her heart sink. But her entrepreneurial spirit continued to soar. Marta came across a new concept and not long after she approached the Israel-based SodaStream, the world's largest manufacturer, distributor and marketer of home carbonation systems, and said, "They took a chance on me. I became the new Canadian distributor for this wonderful product and it fulfilled my personal and professional goals to build a business that will help create a better planet."
SodaStream is an "active green" solution that minimizes the huge eco-footprint caused by the manufacture, transport and waste of plastic bottles. Plus it allows you to make drinks just the way you love them – more bubbles, less bubbles, sweeter, lighter or even create your own flavour. It was a perfect fit for Marta who told us, "When I experience business disappointments I never give up. I am more committed and passionate about achieving my vision for a better world."
A true innovator, Marta believes companies that do better, ones that increase revenues and achieve higher rates of return, do their planning by concentrating on the future, not by looking at the past. Innovation will elude you if you plan the traditional way. You have to develop robust, new scenarios that point the way to the future, not where you came from.
As a woman who works in the international arena, Marta does believe women have some advantages over their male counterparts when it comes to leadership and business. "Women are relationship builders. We have a knack for facilitating connections between resources, people and relationships. Many women are efficiency experts – we don't waste time and can track, evaluate and manage a situation to a positive outcome."
Being an immigrant to Canada though, Marta has faced some challenges. The biggest, but sometimes the funniest, is her mispronunciation of words. "It's hard to get a point across when I am talking about garbage but people think I'm talking about cabbage," she laughed.
She also confessed her love for clothes, which she believes she was born with. "I love clothing and have a great eye for fashion," she said. In 1990 Marta worked as a Giorgio Armani specialist with Holt Renfrew. It was in this position she learned the power of branding and the importance of building relationships. She was also afforded the opportunity to meet and get to know some of the most influential people in Winnipeg, which was a building block for her future entrepreneurial endeavors.
Marta also recounted another important building block, which helped prepare her to become a business owner: going back to school after Holt Renfrew closed their doors. "I wanted to find something that would fulfill my soul. Something to make me happy. I wanted to make a difference in other people's lives," she commented, thinking back. "So I went back to school and graduated as a rehabilitation therapist." This allowed her to work with patients one-on-one to help them recover from physical limitations. "Working with people every day to help them build strength and mobility was extremely satisfying. I learned how powerful positive thinking is and to never give up," said Marta.
We asked Marta if she had some advice for other fempreneurs, and in perfect Marta style she provided these great tips, hoping that even one of them might help other women entrepreneurs build successful businesses:
· Stop waiting. There is rarely a moment or perfect time to do something. If you want to start a business or make your business better, do it now.
· Find and believe in yourself. Whatever you want to achieve with your business, know that you can do it. Ignore your critics. Take good advice when it's offered, but listen to your own advice too. Trust your judgement. If something around you isn't working, fix the problem instead of changing yourself to suit the problem.
· Have passion. If you're going to dedicate hours and effort towards your business, make sure it's something you like. Passion is infectious. If you have it, you will ignite passion in others. If you love your business, others will come to love it too.
· Invest in yourself and in other business owners. You can invest directly in your business, upgrade your technical skills or learn something new. Make sure you also take time to help other business owners succeed. Once you've achieved success, help others achieve theirs.
· Be decisive. Sometimes the information age is more a hindrance than a help. There is so much information available in just a few keystrokes that it is overwhelming. Being a successful business owner means learning how to make effective decisions. Think about each decision and weigh your options, but don't get paralyzed by the details.
· Build a team and play on that team. Nobody succeeds all by themselves. You need to surround yourself with an effective team. Work to create a positive environment and listen to those around you.
· Participate in your business community and network. Meet new people. You may find new clients, suppliers or partners at a networking event. You can learn new ideas from other business owners. Take some time to help build your business community.
Just before the publication of this article we received a press release from SodaStream which announced, "SodaStream Canada managed to double its revenues year-over-year in 2013. By the end of the year, SodaStream Canada soared past SodaStream USA's household penetration rate (HPR) and finished the year with an HPR of 2.4% in Canada." CONGRATULATIONS MARTA!
Laurel Skuba
The Pawsh Dog Inc.
Laurel Skuba has a work ethic, drive and sense of self that is truly admirable for a woman of her young age. At 30, she owns and operates three pet grooming and daycare facilities, an innovative canine wellness centre and employs just under 50 people. And she accomplished all of this in less than 5 years.
Laurel's love for dogs started at age 11 when she purchased her first puppy. "I saved up all my gift, babysitting, an allowance money for over a year until I could afford my first pup, a Keeshond I named Tessa. I began taking my pup to local training classes, practicing regularly, and was quickly at the head of my class. My instructor suggested that I consider competing in a dog show. I was hooked!" she said.
Laurel completed her Bachelor's of Science degree and was planning to attend veterinary school but decided it wasn't for her. She returned to university and completed her Bachelor of Commerce degree and began what she thought would be her career with a Big 4 accounting firm.
"While I enjoyed my time with the firm, the job demanded long hours, which meant I was leaving my house at 7:00 am, and often returning home after 10:00 pm. My dogs were spending too much time home alone and were starting to combat the boredom by destroying my house. I researched dog daycares in the city, but at that time there was only one, and it closed daily at 6:00pm. There was no way that my job would allow me to leave to pick them up and drive them all the way home. I settled on having a dog walker go to my house once a day and take my dogs for a half-hour walk. This service was very expensive, and while it provided some relief, it was not enough to curb their behaviour issues. Had the problem been short term, I may have suffered through it, but as a long-term lifestyle I realized that either the accounting career or the dogs needed to go," she explained.
With $30,000 in hand, Laurel signed her lease on Marion St. and opened the Pawsh Dog on August 19, 2009. In 2012 she opened her Taylor location and only a few months later she purchased another grooming business on Portage Avenue and opened her third location.
"I have over 150 dogs passing through my facilities daily and often have to watch many dogs struggle to recover from surgeries, injuries, degenerative diseases, as well as the loss of mobility and strength associated with aging. It is heartbreaking to watch these dogs suffer, and just as difficult to see their owners anguish as their beloved pet struggles through every day functions," explained Laurel. And as a result, she opened The Pawsh Dog Wellness Centre on July 2, 2013. "It exists to keep dogs moving long past the point when they must give up painful high impact running," she said.
The Pawsh Dog is not just a grooming centre. Laurel is continually researching and innovating both the services it offers and the processes it uses. Some of the services you find at the Pawsh Dog are a hotel and daycamp that are staffed 24 hours a day, 365 days a year, and a limousine service and key holder agreement so they can pick up Fido should something come up. The facilities have large suites, open gym play areas, easy to disinfect surfaces and state-of-the-art air systems. "Our stylists are the highest paid in the industry and we have a lower dog-to-groomer booking ration that allows them more time to produce quality work," she commented.
On her entrepreneurial journey to date, Laurel has discovered she is much stronger than she imagined. "I've discovered that I can cope with anything thrown at me, and I am learning to do it gracefully. When I started in business I was very sweet and very naïve and trusted everyone. Of course, life is schooling me, and I've had to find my feet," she commented. "I went through a stage where I was quite tough and was determined not to show any weakness or emotion. Lately I am finding that I have more true confidence in my abilities, and it's allowing me to make better decisions and be more connected with my team and clients," she continued.
The Wellness Centre is an innovation in itself. Services offered include a variety of specialized swim programs for geriatric fitness, weight management, cross training for the canine athlete, pre-operative strengthening, post-operative rehabilitation, family pet fun swimming, and puppy learn to swim. "Our practitioners also offer canine massage, myofascial release, and a variety of dry-land fitness programs including a dog treadmill, bosu balls, balance disks, and a variety of ramps and stairs," explained Laurel passionately. "We also host educational seminars for both the public and veterinary community about the benefits of hydrotherapy and other non-medical modalities. World-class educators and practitioners, including the world leader in hydrotherapy from the United Kingdom, Angela Griffiths, of Greyfriars Veterinary Rehabilitation, have spoken at these events," she said.
What is the best thing she has done to grow her business? "Integrity and Excellence," she said matter-of-factly. "I can't emphasize enough the power of word of mouth. It will make or break your business. We have advertised using traditional media, worked in social media, ran sales, and various other marketing strategies, but at the end of the day, I honestly believe that if you are the best at what you do, that your clients will find you and stick with you," she said.
But it's not all work and no play for this young entrepreneur. Laurel loves good food, good wine and good friends. She says her life is one long hilarious blooper of lessons learned the hardest way possible, and that she is eternally grateful for her sense of humour, perspective and the friends that can laugh along with her.
She doesn't feel her gender has impacted her success one way or another. "Of course there are still sexist jerks in this world, but at this point in history, fools who are ignorant to the fact that women are powerful contributing members in the business community are obsolete," she said.
Her advice for other women business owners: "Be ready to work. Be ready to learn, and adapt fast. Be ready to develop your networks with both men and women professionally. Be sure you have access to capable professionals to help you through the tough stuff. The biggest challenges you will face will be people. Be sure that you are confident in who you are, and your ability to make a sound decision. As a woman leader, people will try to convince you that you are "crazy" or a "bitch" when you try to stand up for yourself – traits of confidence are celebrated in male leaders and admonished in women. You will need to be able to hold your ground."
---

Susan Portelance | www.prairiescribe.com
Susan Portelance is a freelance writer, editor and storyteller. She owns Prairie Scribe in Winnipeg, Manitoba, Canada, and helps her clients craft quality communications, from web content and case studies to ebooks and blogs.