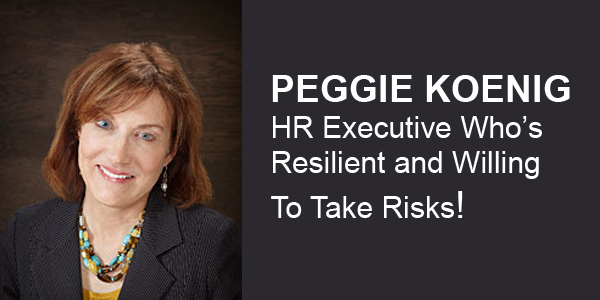 HR Entrepreneur Resilient and Willing to Take Risks
Peggie Koenig, President and CEO of Koenig InTell, doesn't believe in regrets or hindsight. "If only . . . is counter-productive to personal growth and making positive change in the future. Take what you can from the past and move on," she stated matter-of-factly.
A Saskatchewan native, Peggie told us she never considered running her own business. There were no entrepreneurs in her family history. In fact, Peggie said her family had a socialist perspective and a wary approach to 'business.' "When I decided to study business and human resources at university, the collective family eyebrows were raised." But that didn't stop Peggie, who graduated and went on to work for a large international consulting firm in Saskatoon.
Peggie is a strong believer in the thought: when one door closes another one opens. She didn't skip a beat when her employer decided to move its practice to Calgary. Peggie chose to stay in Saskatoon and opened her own firm, Koenig & Associates, a boutique human resources consulting firm that provides tailored human resource services for its clients.
Koenig and Associates is in the business of managing organizational effectiveness and development in evolving business environments. They work with senior executives and organizations that want to maximize business performance through human resources strategies, total rewards, organizational design and effectiveness, and executive coaching. "We have positioned Koenig for success with a highly-credentialed team, a strong track record of delivering as promised, and an excellent understanding of the local business environment and culture. We consider our longevity in the marketplace and our long list of repeat clients as evidence of our commitment to excellence," explained Peggie.
But one business is not enough for this driven entrepreneur. Peggie also runs a company called InTell Executive Search. This firm provides executive searches to fill senior executive and management positions and reaches all corners of the world for candidates through its membership in Agilium Worldwide Executive Search Group.
Peggie described herself as resilient and willing to take risks. But the human part of the business, laying-off staff when business is soft or terminating an employee, are decisions she doesn't make lightly, pondering and sometimes even procrastinating on the decision. But she has learned that when action isn't taken, it can affect the team and this has been a valuable lesson in leadership and running a business.
Lover of artichoke hearts, green tea and oysters, Peggie's tastes are just as discriminating when it comes to managing her business finances. "Finding a good accountant with expertise with owner managed enterprises (OME's) was one of the first important steps I took as I established and developed the business."
Peggie is also diligent in ensuring her companies don't rest on their laurels. "We make it a practice to listen to clients to identify 'pain points.' We monitor the marketplace for trends and support a culture that encourages staff to participate in brain-storming and new idea development."
Standing on top of Machu Picchu, viewing the vast expanse of Ireland from the middle of nowhere, or crossing a half-marathon finish line gives Peggie an appreciation for the world and her life. "This practice of taking energy from nature combined with physical challenge is a great source of inspiration for me."
Peggie is also inspired by learning through conferences and formal education. "I recently completed the evidenced-based coaching program offered by the Fielding Graduate University in Santa Barbara. The energy and inspiration I received from my fellow students was immeasurable."
Like many, Peggie believes women entrepreneurs still carry the load of managing family, but women have choices about how to manage household and family obligations in conjunction with a business. She was adamant about the necessity for women to find network and support opportunities that include both men and women. "My advice for women business owners is stop fretting about the 'old boy's network'. You don't need membership in that fraternity to be successful, you can build your own network of men and women in the business community."
---

Christine Dubyts | www.dubytscom.com
Christine Dubyts is crazy about marketing and helping businesses stay in business, grow and prosper. As a fempreneur she has a special interest in working with other women business owners with their marketing and business growth efforts.