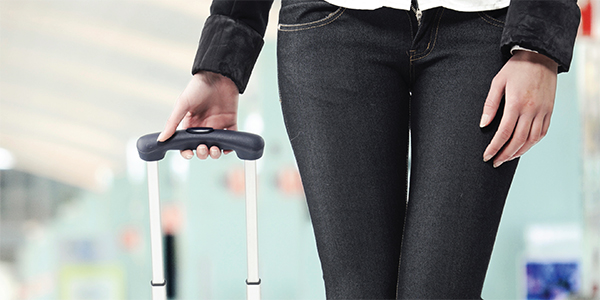 Business Travel Tips For Fempreneurs
Women travelling for business is trending up and the reality is we can face unique cultural, personal and business situations that can jeopardize the success of our business trip. Here are a few tips and suggestions to help ensure a safe and successful trip.
Research Cultural Business Differences
The more you know about where you're going, the better prepared you will be. Familiarize yourself with cultural do's and don'ts.
Understand the customs and business protocols, especially in cultures where women don't typically have a role in the business world.
If you're travelling to a country that employs strict interpretations of Sharia, or Islamic law, be aware of the rights and obligations of women.
A handshake is customary in most western cultures but in some societies it is forbidden for women to touch a man in public. If you're not sure, wait for the man to initiate his customary business greeting.
Businessmen in certain societies think it's okay to proposition women. It is appropriate for you to give a firm 'NO'.
Get Your Travel & Business Documents in Order
Passports, visas and health insurance are no brainers when you travel. But don't forget to include documentation that you might need to answer questions or provide support to airport and border officials about your reason for travel, including your itinerary and accommodations.
Travel and Accommodations
Choose a hotel that has a well-known name brand, in a well-lit area of town, with 24-hour front desk staff. Travelling solo on business is not the best time to search out that unique accommodation or bed and breakfast.
Avoid hotel/motel rooms that have doors opening onto a street, are situated down long corridors or away from other rooms. Carry a rubber doorstop to wedge from the inside of your room. (This may seem like overkill but you'll get a much better sleep because of it!)
Use only legal and reputable taxis. Never hire a taxi if the driver approaches you in an airport arrival area. Such services are usually illegal and may be unsafe. Source: www.travel.gc.ca
Avoid late night business meetings. If this is necessary, ensure you have someone escort you back to the hotel, to your car or to a reputable taxi service.
Fashion Alert
Dress appropriately for the culture you're visiting and if you're not sure, err on the side of dressing conservatively.
Take your cue from local women. If they don't wear short skirts or tight clothing you shouldn't either.
Stay under the radar with dark or muted colors that don't attract attention.
Make a headscarf or hat an essential part of your wardrobe if you're fair-haired in a country where most women are dark-haired.
Wear your wedding band. If you're not married, wear a fake one. Being seen as married will lower your profile and stave off uninvited advances. But remember, expensive jewelry belongs at home.
Personal Safety First
Never leave food or drinks unattended or in the care of strangers. Be wary of accepting food, beverages, gum, or cigarettes from new acquaintances. There's always a risk of spiking, and drug-assisted rape is common worldwide. So-called "date-rape drugs" – usually prescription-strength sleeping aids – are tasteless and colourless and can leave you unconscious and defenceless. Alcohol alone is the drug most frequently used in sexual assault.
If you begin to feel strange, sick, or intoxicated for no obvious reason, ask a friend or someone you trust to take you to a safe place. If you're alone, call the local police, hospital or your local consulate.
Know the risks of ending up alone with strange men. Think twice before leaving a business gathering or party with someone you've just met or accepting an invitation to go out with a man alone, especially in societies where dating without a chaperone present is considered taboo.
Be wary of anyone who invades your personal space, ignores your protests, or tries to make you feel ashamed if you resist his advances.
If you feel threatened, don't hesitate to draw attention to yourself by shouting and making a fuss. Source: www.travel.gc.ca
Stay Connected
Sign up for the American Citizen Registration, the Registration of Canadians Abroad service, or the appropriate registry in your country. These services can assist you in an emergency abroad or inform you of a family emergency at home. Registration is voluntary and typically free.
Get online and work your networks to connect with other women travellers through international associations and social networks you're affiliated with. Members of these groups can be excellent sources of information and provide first-hand experience about travelling and doing business in the city or country you're visiting.
Keep in touch with family and/or friends at home. Make sure someone knows your schedule and plan regularly scheduled phone or email correspondence so they can keep track of you.
Check out the many online resources to help you get the most out of your business travel. Do your homework and travel safe!
---

Christine Dubyts | www.dubytscom.com
Christine Dubyts is crazy about marketing and helping businesses stay in business, grow and prosper. As a fempreneur she has a special interest in working with other women business owners with their marketing and business growth efforts.