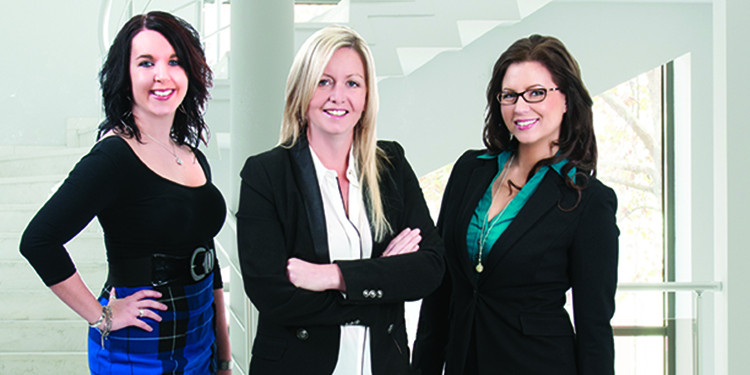 Canada's Prairie Stars
3 Saskatchewan Fempreneurs reveal what it takes to be successful leaders.
When you think of a leading lady, you probably envision the lead actress in a theatrical production or movie – the star and typically heroine of the show. Well, our Saskatchewan leading ladies are all of the above and then some. They're heroines in their own productions — leading businesses, running households —and they still find the time to volunteer and lead charities, nonprofits or business organizations.
We put out the call for our Prairie Stars in November 2013, specifically seeking women who currently own and operate a business in Saskatchewan AND who also volunteered their time sitting in the President or Chair position of a charity, nonprofit, business association or organization. In this feature we are pleased to highlight three leading ladies working in and contributing to their communities in Saskatchewan.
Tessa Krofchek
The Big Blue Shoe
www.thebigblueshoe.com
Tessa Krofchek from Melville has it all going on. Smart, driven and born with a heart of gold. Tessa launched The Big Blue Shoe launched, a marketing and advertising firm, in 2010, and she is the Chair of the Melville Chamber of Commerce Tourism Group.
Growing up in an entrepreneurial family, working late nights and on weekends were part of the routine for Tessa. Her mom, a pundit of the marketing world for over 35 years, inspired Tessa early on, creating the reality that women can have a family, a business and still make time to volunteer for the greater good. "As early as age five I can remember Mom having us involved in nonprofit events like the Relay for Life," reflected Tessa. "I grew up seeing my mother as a leader and monumental pillar of the community, and both her and my dad taught me the value of work ethic, making me the person I am today."
"It's funny. I never really thought of myself as a leader until I was presented with the Ambassador Award for Outstanding Leadership by my peers when I was in college. They nominated me because, as they said, 'they looked to me to help, guide and encourage them'. I was leading them and didn't even know it."
Leadership to Tessa isn't about a title. It's about taking action, earning trust and gaining respect. "Leadership is recognizing and seeing potential in someone or something, standing up for what you believe in and creating the change you want to see." Tessa believes you need to do a couple of pointed things to lead effectively, the first of which is honing your public speaking skills by building your confidence and discipline. The second is learning to listen, not just hear. "You need to learn how to break the content down and read between the lines." Tessa also believes you need to be able to multi-task. "You have to train yourself to find the perfect balance, not just between business and volunteer, but also work and home life."
When we asked her about her passion, she didn't hesitate. "Fighting for the Little Guy! I love marketing and dealing with small businesses and entrepreneurs and helping build that awe-inspiring underdog story." The Big Blue Shoe offers a unique approach for businesses that want to make a big impression and provides business plan consulting, advertising design, direct marketing, event planning, promotional products, website design and other complementary collateral marketing materials.
Music is a big part of Tessa's life and creating and listening to a great playlist motivates her when she works. When it comes to her business, she is dreaming big and has a vision of growing her home-based enterprise into a large advertising firm that specializes in helping small to mid-sized rural operations.
The Melville & District Chamber of Commerce is shaking things up in the community and Tessa is proud and excited to be a part of the organization as the board moves away from tradition, finding new ways to support businesses and contributing to the economic development of the city.
On women, entrepreneurship and leadership, Tessa says women have to be confident in their choices, their values, and who they are. "If you're not confident in yourself, you can't expect your peers to be confident in your abilities and your decisions. You may not be a celebrity, a rock star or a musician but as a woman in business, you are already a leader and role model for girls and young women."
Tracy Arno
Ess ence Recruitment Inc.
www.essencerecruitment.ca
Our second Saskatchewan leading lady is an HR professional who knows people. She understands the value in making a mistake and is passionate about making her community a better place to live and work. Tracy Arno is the President of Essence Recruitment Inc., which she established in 2011. She also volunteers her time in her role as the President of the Greater Saskatoon Chamber of Commerce.
Tracy's passion is helping people, so launching Essence Recruitment was a great fit. Based out of Saskatoon, Essence Recruitment specializes in professional recruitment in the areas of senior management, operations, sales, Finance and marketing. She recently received accolades when the company was named a 2013 Finalist for the ABEX awards in the New Venture category.
As a lifelong learner, Tracy's training ground is real people and everyday life. She regularly attends conferences, and takes lessons away daily from her competitors, her community, the Chamber board, and her networks of influence.
When we asked her who the one person was that has made the biggest impact on her leadership over the years, she responded, "There is not one single person I can pinpoint, but several. I was determined to become a better person, so I utilized my mentors and community. Learning from the people around me gave me the experience and education that has helped me be successful today." Tracy stays motivated by doing what she loves. "If you do what you love, your inner passion will come out," she said. She surrounds herself with people, activities and items that give her inspiration and motivation. "Eliminate anything that brings you down, including negative people and things you don't enjoy doing."
Her passion is people and helping others be better individuals. She recommends other leaders refine their ability to be supportive, empower people to take action and do their best not to micromanage. Following up is key, as is being accessible to those who need you. She has also learned that, "Everyone is different and we need to understand and accept this. We need to embrace the qualities of each individual, not judge or dismiss them."
Do women lead differently than men, we asked? "I think women tend to be more compassionate and patient than men," she responded.
"I find the biggest challenge facing women leaders is more evident in board work. The ratio between men and women on boards is largely in favour of men. My goal is to change this and to provide more opportunity for women to participate on boards." She continued, "Being a woman in business is always challenging as you have a household to run while trying to grow your business. I'm fortunate to have a wonderful husband and partner who enables me to focus on my career while balancing my home life."
Tracy's role at the Chamber and her entrepreneurial venture go hand in hand. She explained, "I decided to join the Chamber to increase my networking options. As I participated in the Chamber's networking opportunities, my personal confidence and experience grew and I launched my business as a result. The Chamber really did allow me to learn and grow and today I have a successful business."
But the pieces haven't always just fallen into place for Tracy. "I've taken the hard road so many times because I didn't know what I didn't know." But making mistakes are a learning experience for this woman who is wise beyond her years. "If I can learn from my mistakes or failures then it's not a failure. It actually helps me become a stronger person," she explained.
Her advice for emerging leaders and women in business: "Learn from your mistakes, ask questions and get a mentor. Most of all do what you want to, not what someone else wants you to do."
Shannon Smadella
Avanti Corporat ion & Avanti Productions
www.miss-canada.com
Last, but certainly not least, is the story of a serial entrepreneur, leader and celebrity in her own right, Shannon Smadella, Miss Canada 2008. Shannon is the definition of inspiration in all she has accomplished in her 32 years. When we connected with her to participate in this feature, it wasn't her long list of achievements in business and charity work that impressed us, but her authenticity in her vision to build opportunities to help others.
Shannon operates all of her business ventures under the umbrella of Avanti Corporation and Avanti Productions, which she established in 2008. Under that umbrella are: ARC Consulting, a management consulting, motivational speaking and sales training business; Avanti Fashions, a clothing line established in 2010; and Shannon Smadella Fit, a side business where she offers yoga, personal training and sports nutrition. Shannon also launched and ran Vector Marketing Canada, a marketing firm in Saskatoon from 2000 to 2006.
When she's not helping people through her business endeavours, she's getting her fix through her philanthropic ventures. In 2009, Shannon founded the Shannon Smadella Foundation, which has distributed or aided in raising more than $3 million to support various programs, projects and charities. And in 2010, she founded THE RIDE FOR THE RED, an international celebrity cycling tour that raised over $200,000 on a 40-day long, 4000 km bike trek from Calgary, AB, across the Rockies to Vancouver, then down the coast to Santa Monica.
Shannon is an avid learner and subscribes to a number of online newspapers, including forbes. com and huffingtonpost.com, to keep herself current. "As a leader you can never stop learning!" she said. She also plans to obtain her MBA within the next five years.
Deepak Chopra has been an integral part of her personal development and this is reflected in how she runs her business and life. Her mentor, Angie MacDougall, was her mentor when she started her first venture. "Having her as a mentor made me a stronger person in business and had a positive impact on my success through the years. She is a successful leader in business and I look up to her even today," commented Shannon.
We asked her what traits a leader needs to lead successfully and the answer came easily to Shannon: "The number one trait a person must possess is integrity. Integrity is a key value, which encompasses ethics, honesty, trustworthiness, which are all needed in being a great leader. Next to integrity is a good sense of humour, great communication skills, confidence, a positive attitude, commitment, creativity, intuition, and then also the ability to delegate and the ability to inspire! The preceding would be my top ten behavioural/ character traits that I would recommend engaging in or developing for great leadership."
Shannon believes every leader leads differently and says she would never classify or evaluate the level of effectiveness of a person's leadership based on their gender. "I believe there are a number of things that make a person a good leader, but gender would not be one of them." She does, however, believe women have a way to go in achieving financial success in Canada, as there is still not one woman listed in the top 100 most profitable people.
"As women in business, we need to support one another more often. It's great to see magazines and articles like this, that will help empower women. One of our biggest challenges is letting go of the limitations that we put on ourselves. We need to believe that anything is possible if we put our minds to it, and then put the effort and intellect in to obtain it." Shannon is passionate on the subject and said she could speak on the topic forever, but for the sake of the article she'd leave it at that.
Her advice for emerging leaders and women in business: "Be yourself, believe in yourself, lead with passion, and lead by example! In order to help or lead others, you need to be fully confident and secure in who you are and what you want (and others want) to achieve. Don't "tell" people, "show" people! Believe in yourself and what you do with all of your heart."
---

Christine Dubyts | www.dubytscom.com
Christine Dubyts is crazy about marketing and helping businesses stay in business, grow and prosper. As a fempreneur she has a special interest in working with other women business owners with their marketing and business growth efforts.