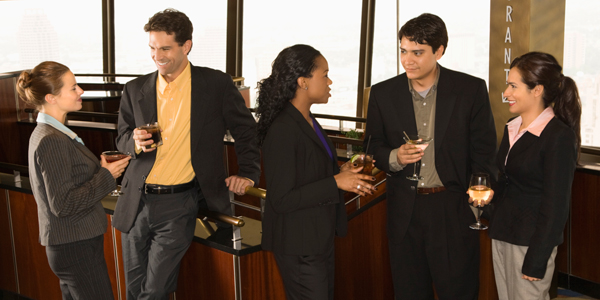 Tips to Choose the Right Networking Group
Are you having trouble deciding which networking organization to join? As a business owner, you already know the importance of networking. You need to meet other business owners to develop meaningful work relationships. These people may even become your customers or suppliers.
There certainly isn't a lack of supply when it comes to networking groups. What we usually lack is time. You can't spend all day networking when you also have to run your business, deal with existing clients, manage staff and do all of the other myriad tasks required of you. The important thing is to focus on the quality of the groups you join. When trying to select an organization (or two), keep these key questions in mind to determine your best fit.
Where and when does the organization meet?
Does the group meet in a location that's easy for you to get to, or will you need to spend a considerable time travelling just to get there? With a finite number of hours in the day, you don't want to spend too much time in your car.
When does the organization meet? If they only have breakfast meetings and you aren't a morning person, how likely are you to even attend the meetings? Be realistic and choose something with a time that you'll likely attend. You don't want to waste membership dollars on a group you don't even see.
Do they meet once a month or do they require a weekly commitment? You may want infrequent meetings so they don't clog your schedule. However, if you want to meet a lot of people, more frequent meetings may be what you need. You may also look to join an organization that holds meetings and events at different times. If your local Chamber of Commerce holds breakfasts, lunches and evening mixers, you are more likely to find meeting times that fit into your busy schedule.
What is the aim of the group and what type of people does it attract?
Networking organizations have different goals. Many are general networking groups that try to bring together a variety of businesses. Some are specific to certain industries and focus more on learning than finding clients or suppliers, such as groups dedicated to financial planning or accountants. You may find it helpful to belong to one of each. You can find clients with the general group, while keeping abreast of industry knowledge with a group specific to your profession.
If you already belong to one group and are looking to add another, does it attract different business owners or will you be mingling with the same people in both groups? Always seeing the same people won't help you grow your contact base. You would be best to look elsewhere for your second group.
What type of commitment is required?
Some groups charge a membership fee and then you choose which events you attend. Other groups, usually leads-based, require you to attend all or most meetings. Some may require you to find a substitute if you need to be away. These leads groups can be a wonderful way to gain new clients, but they will only work if you can make the commitment. If your schedule is too difficult to nail down, you might be wasting your time and efforts by joining one of these groups. Know what you can realistically commit to before taking the plunge.
What is the fee structure of the organization?
No one likes to overspend on networking organizations, so look at the fee structure before you join. Do the fees seem reasonable? Do you pay a large flat rate, regardless of how many events you attend? Or do they have a small membership fee and the freedom to only pay for events you plan to attend?
A large up-front fee is fine if you know you will attend all or most events. It saves you from having to spend cash each time you go. If you know your attendance will be sporadic, you will be better with a pay-per-event organization.
No matter which pricing option you choose, make sure you periodically analyze your spending and the organizations you belong to. You want to know you are getting the greatest use out of your money.
Can you test drive the organization before joining?
This is probably the most important point to keep in mind when checking out a new organization. Almost all will let you attend a meeting or two before asking you to join, so you can determine if the group will be a good fit for you. Take advantage of this opportunity to attend meetings for a number of groups. You have a reason for joining these organizations. Whether it be finding clients, suppliers, or simply to learn from your fellow business owner, take the time to pick the organization that will best help you in meeting your business goals.

---

Christine Dubyts | www.dubytscom.com
Christine Dubyts is crazy about marketing and helping businesses stay in business, grow and prosper. As a fempreneur she has a special interest in working with other women business owners with their marketing and business growth efforts.