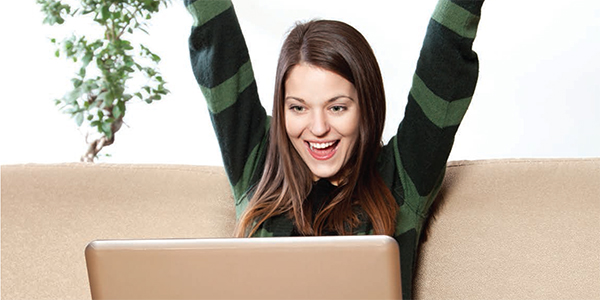 Go on...Smash Your Sales Targets
Eight years ago when I left paid employment to embark on my entrepreneurial journey, all of my colleagues signed a book they'd given me as a parting gift. One of the inscriptions read, "Nicola: remember focus, focus, focus!"
At the time I didn't appreciate the wisdom in those simple words. Yet, eight years on I understand why the placement on focus is an integral part of building business success.
As I write this we are currently 8 working days into the month and I have already smashed my personal sales target. As a business we are 35% up on our year-to-date revenue target, which is the fourth consecutive year of growth for our company.
I'm sure you'll agree these are fantastic results, especially at a time when the media would have you believe the economy is doomed and business growth is difficult or impossible. However, there are many examples that would prove them wrong.
So what are companies doing to persistently record growth and strong sales results? There are many answers to that question, but I'll share 4 key elements that I consistently apply in my business and also with my clients.
YOU MUST KNOW WHERE YOU ARE HEADING
I know this is obvious, but so many businesses that I've worked with started out with a plan, then got busy. They are so focused on delivering the products or services within the business that they've forgotten to plan the next step. Have you evaluated:
What you did last year?
What is your plan this year?
Who is your target market?
Who is your ideal customer & what are their needs?
How do you plan to reach these clients?
If not, then I suggest you start here. I'm always surprised by how many companies don't have even the simplest of targets. Without that level of focus how can you know what you should be working on?
ONCE YOU'VE DECIDED ON THE DIRECTIO, GET EMOTIONALLY ATTACHED TO IT
Once you've decided on the direction, get emotionally attached to it. All behaviour is driven by underlying emotional needs, so ensure that both you and everyone in your sales team has an emotional connection with the business objectives. Tie the objectives to something meaningful for each person. What would you be able to have, do, share, experience or give away once the business objectives are met and your customers are completely served?
PLAN YOUR ROUTE WITH MEASSUARABLE ACTIVITIES TO GET THERE
What systems, resources, and strategies do you need to apply? Unless you clearly define what actions you need to take on a daily basis to move forward, you will end up with your business, your customers, and a whole bunch of other external forces running you, rather than you driving your results.
If you currently plan your day based on the content of your morning emails or what your colleagues ask of you, then you have fallen into the reactive trap. Instead, compile a breakdown of what measurable actions need your focus on a daily, weekly, monthly and quarterly basis to keep you moving forward.
One of the first things I ask companies I consult with is to show me sales reports. I want to know their OBV (order book value), monthly sales figures, pipeline reports and activity reports. I also want to know how many customers they are in dialogue with, how many meetings their sales team conducts in a set period and what marketing activities they have executed. Everyone must focus on driving productive activity or be at the mercy of other people and circumstances.
PROTECT YOUR POSITIVE BELIEF
Negativity is like cancer. If left unchecked, it will leak into your organization and your own unconscious mind, polluting every cell of your being. This can have a devastating effect on your success because...
Where your focus goes, your energy flows. Then what you can focus on will expand.
Therefore it's imperative to avoid negativity in the form of negative people (including customers) and negative cultural influences (such as the media and Internet). Instead flood your brain and your organization with positive influences that focus you on success.
These influences can be in the form of positive people, conferences, mastermind groups or even productive networking environments. They support your own positivity and personal growth by focusing on materials that support your vision and business journey.
Nothing is stopping you from smashing your targets this week, this month, this year...so go on, make it happen, you know you want to!
---

Nicola Cook | www.nicolacook.com
Nicola Cook is an award winning entrepreneur and twice published international best-selling author on professional selling and personal & business growth. She is the Founder of Aurora Consulting and a Director of Lara Morgan's Company Shortcuts, two businesses that are devoted to improving business results by injecting skill, passion and strategy to help those entrepreneurs and sales enthusiasts achieve the results they desire.