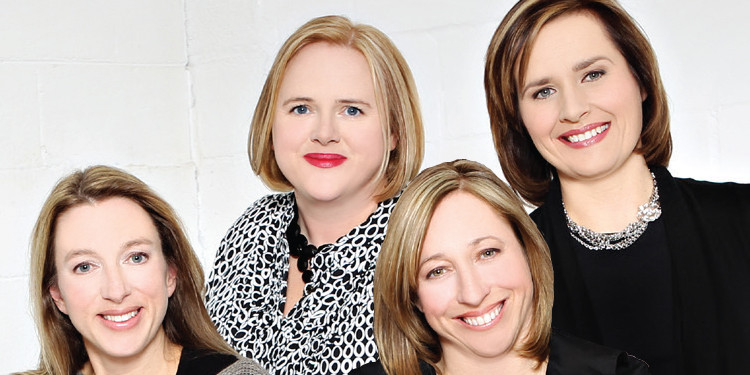 Label Ladies Love the Challenge
If you're a mom you've probably heard variations on these frantic outcries: "MOM, I can't find my gym runners! MOM, where are my mitts? MOM, my lunch bag is missing!"
And I'm certain you've uttered frustrated phrases like: "Jill, where's the overcoat you wore to school yesterday? Morgan, where are your jazz shoes? Alex, there's only one soccer cleat. Any idea where we might find the other one?"
Yes, kids lose stuff. So Julie Cole, Julie Ellis, Cynthia Esp and Tricia Mumby set out to create a labeling system to help lost items find their way home. Together, in 2003, this creative quartet launched Mabel's Labels to provide a better solution than permanent markers and masking tape.
Mabel's Labels designs, manufactures, markets and sells stylish waterproof labels to identify personal belongings. At launch, they initially focused on "Labels For The Stuff Kids Lose!"®, but they have recently expanded to household labels and adult-targeted "Write Away!"™ lines.
Julie Cole, the team's spokeswoman, is currently a mom of six kids, a business owner and a blogger. You'll find her at meetings, media events, hockey games, and even nursing fevers. There's not a whole lot of time for Julie to hang out at the spa and even less time for her to run around and find kids' stuff.
Her fellow fempreneur partners also understand first hand what moms want and need. With some diligent research and testing they came up with a better mousetrap.
Our goal is to produce the very best quality products for our customers and to give them the very best customer service experience possible. We like to say that our job is to make families lives easier!
But it wasn't all smiles and labelmaking heaven. "Bringing a brand new product to market was filled with challenges and meeting those challenges is what spurred our growth," said Cole.
Print industry professionals, colleagues, friends and even family members called the ladies crazy to start such a business, but they charged forwarded on the advice of an anonymous fan who said, "Ignore anyone who says your ideas are crazy because crazy and innovation breed success."
They developed a custom computer system to handle the complexities of ordering personalized products in mass quantities from all parts of the country. This flexibility allowed them to expand their marketing efforts with confidence, knowing that they could meet increased demand.
Marketing Mabel's Labels came with its own unique set of challenges. Like most businesses, a limited marketing budget topped that challenges list. A million dollar ad campaign was not in the cards, but the Label Ladies jumped on board the social media bandwagon and have been incredibly successful in getting out their word.
They also used a word-of-mouth product ambassador network called Buzzmamas™, which led to endless marketing and networking opportunities in both new and traditional media channels.
So how do these four ladies find balance? According to Cole, balance is defined as living guilt free—and she gave up guilt three kids ago. "It (guilt) is so pointless and I don't have time for negativity to suck energy out of me. I need all the energy I can get!"
She isn't kidding. Julie and her three partners are ramping up manufacturing of their "Write Away!"TM line as they launch into 1750 Target stores across the U.S. "There are very exciting times ahead!" said Julie.
So how do four women sell 50 million labels in 92 countries? According to Julie, the fearless four have some feisty conversations, resulting in new and fresh ideas. They all bring different skills to the table, and all of these skills have contributed to the company's growth and success. They understand the challenges each woman faces in balancing a busy family with business ownership.
In closing, Julie has the following advice for other fempreneurs, "Use social media! It's a free and powerful way to network. Get your brand out there and learn from others. Be where your potential customers are, online and off, and join the conversations they're having about your products."
Check out Mabel's Labels and order yours today! www.mabelslabels.com
---

Christine Dubyts | www.dubytscom.com
Christine Dubyts is crazy about marketing and helping businesses stay in business, grow and prosper. As a fempreneur she has a special interest in working with other women business owners with their marketing and business growth efforts.