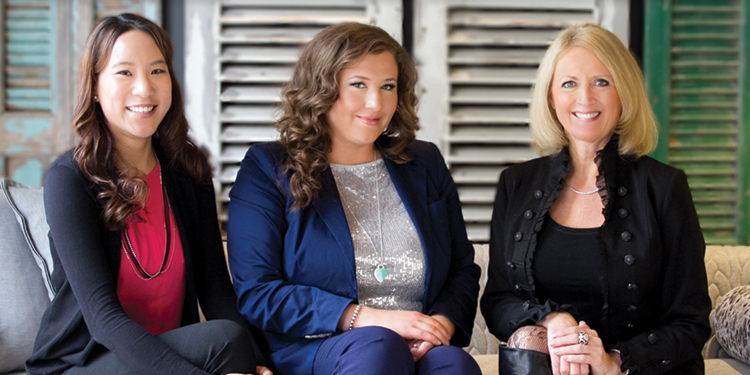 Lights Camera Action
Alberta Fempreneurs reveal what it takes to be successful leaders.
When we put out the call for leading ladies in Alberta, we asked for stars in the business community who are heroines in their own productions - leading businesses, running households and playing leadership roles in charities, nonprofits or business organizations.
These women are committed to lifelong learning, believe in giving back, are incredibly humble about their accomplishments, and know how to get things done. The saying, "if you want something done, ask a busy person" could have been inspired by any one of them.
They know the value of asking for help, when to trust the numbers or their intuition, and have learned that they are as strong as their community of support. They've overcome setbacks, blown away perceptions and had doors opened that were closed before. They're persistent and positive. Regrets? None. Mistakes? Only if you don't learn from them. Many had mentors or someone special who believed in them or broadened their horizons, encouraging them to dream bigger dreams. Others created businesses or community causes after profound personal experiences.
They differ on opinions of women and gender in leadership and their opinions on the biggest challenges facing women leaders today may surprise you. But what they share is passion, enthusiasm and will to succeed on their terms. Enjoy these glimpses into the world of Alberta's leading ladies!
CoraMarie Clark
Strategix
www.strategix-ltd.com
www.toothfairykids.org
Going back to university after 15 years as a dental hygienist to earn an MBA isn't something many women with children do, but for CoraMarie Clark, it made sense.
She parlayed her MBA into Strategix, a thriving dental industry consultancy that helps to maximize the potential of practices and organizations throughout North America. She wrote a children's book that promotes smart dental care at an early age. And as Toothena the Tooth Fairy, she founded a global not-for-profit organization whose goal is to provide every child worldwide with a toothbrush, education and access to dental care.
CoraMarie chose early on not to believe in the 'glass ceiling' that prevents women from receiving the same level of opportunities as their male counterparts in business and careers.
In her consulting practice, in fact, being a woman in business has been beneficial. "In the dental industry, teams tend to be made up of primarily females. So for me, I could say it hasn't been a challenge, I actually find it advantageous. Dental teams seem to relate well to me, and the dentist appreciates the fact that his team are willing to open up to me and learn and grow."
It was an accidental discovery of an alarming number that led CoraMarie to establish the not-for-profit organization. "In 2007, I came across some startling statistics online about children in the USA who had died from a tooth gone bad. According to The World Health Organization, over 90% of the decay that children in developing countries get will never be treated.
I compiled a board of brilliant people, ranging from a dentist and accountant to entrepreneurs and lawyers. Together, with our amazing group of volunteers and partnership organizations, we have given over 785,000 toothbrushes to children in need. In addition, at least once a year, on behalf of the Foundation I personally take a trip to a developing country to hand out toothbrushes and teach children proper oral hygiene."
CoraMarie has drawn on the support of a dear friend and mentor who has been with her from day one, as well as the board of directors of the foundation, and like-minded entrepreneurs through her active involvement in the Canadian Association of Professional Speakers (CAPS). She credits all of these with becoming a better leader, sharing her vision as well as growing her business and the foundation.
Balancing it all? Well, it has its challenges. With passion and good humour, CoraMarie takes that in stride.
"When I was 15, I had the good fortune of learning how to ride a unicycle. My gymnastics team members dubbed me 'Hot Stuff On A Wheel'," she said.
She was determined to get back on and wow the crowd for a fundraising event when she was the CAPS Chapter President in 2002.
"I was able to borrow a unicycle, and figured that surely I would still be able to ride it, and that it would a great way to get people's attention. As I rode the unicycle onto the stage, it flew out from under me and I fell smack on my face – in front of 100 people. It was more than a little embarrassing. Should anything like that ever happen again, I now have a response: "I am now accepting questions from the floor," she quipped.
Persistence, setting goals and the support of a great network continue to make CoraMarie's path enjoyable.
"(I've learned that) you never know everything. I have loved the journey of meeting new people, and continually learning from them and with them," she concludes.
Anh Nguyen
Spark Event Management
www.eventsbyspark.com
The analytical mind of a business grad, teamed with the youthful enthusiasm and energy of an event planner is an intriguing combination.
The result of Anh Nguyen's skills and passions is Spark Event Management, a full service event management firm based in Calgary.
Anh's passion for creating events that get results is what sets her business apart. Each event is treated like a business, by focusing on clear strategic goals, defined milestones and comprehensive financial management, she said.
"Events are such an amazing thing. Whether you are having a conference, a professional development event or a client reception, events create connections and these connections spark action. No matter what, when people connect face to face, new ideas are generated and because of that, change happens. I love creating a space and forum where people leave feeling inspired to take action.
I always said I was not born with the skills to cure cancer, but how cool would it be if I got to organize an event that brought two people together, who were able to exchange their ideas and cure cancer. As an event planner, you get to help create these amazing connections and you get to watch those connections grow and flourish – it is amazing!" she added.
Her foray into the world of strategic events was ignited by a mentor who saw her potential early on.
"My first real boss and mentor, Ian MacGillivray, really taught me everything I know about running an event management business. He took a risk hiring a 20 year old IT student and gave me more responsibility than I could really handle at that age. It forced me out of my comfort zone and challenged me to be a better version of myself. He involved me in major decisions about the business and treated me like a peer - and I was only three months out of school.
When someone believes in you like that and gives you that kind of responsibility, you just want to step up and rise to the challenge. It was amazing and definitely something I try to remember to do as I work with those who are new into their careers and the industry," she said.
She's committed to developing her professional skills while also providing opportunities for others in her profession. As the president of Meeting Professionals International – Greater Calgary Chapter, she's able to practice leadership, teach, and learn from others at the same time.
"The MPI Greater Calgary Chapter is such an amazing group of meeting and event professionals in Calgary. I love them, they are my MPI family. We are an organization that is dedicated to providing educational and networking opportunities to members of the Calgary meeting and event industry. This is the most diverse, talented, fantastic group of people you are going to meet – ever! If you plan, supply equipment to, work at, attend, host or just love events, this is the best network you could ever tap into," said Anh.
Anh offers this advice for others in business: "Work hard, thank the people who have helped you get to where you are and take pride in your work. The greatest piece of advice anyone ever gave me was to treat everything I sent out, whether it be an email, a document, a resume – anything – like it was a work of art and be sure that you would be comfortable signing your name to it and having it hung up for everyone to see," she said.
Caralee Hubbell
Writer, Editor, Coach
www.calgaryeditors.com/caralee-hubbell
Caraleee Hubbell works with both established and emerging book writers through her editing and coaching business. As a published writer and longtime professional editor, she brings fresh techniques and novel approaches to working with her clients to get their work out to the world.
Caralee's passion for learning and discovery makes her chosen business and profession a natural fit. Curiosity and plot twists are all part of the process.
"I'm interested in a ridiculous amount of different things from becoming a better writer and editor to learning Italian, flying a plane, travelling, developing new skills (I recently found a class about hand-lettering), and just engaging in new experiences in general. This, of course, in turn will all make me a better writer and editor. It's a big, enjoyable circle," she said.
As someone who reads others' works for a living, inspiring material and a range of influences are never far away. She's picking and choosing her way through the list of recommended reads on the Indigo MBA and likes to explore many different opinions and ideas.
Caralee is committed to her professional development and has been involved with the Calgary Association of Freelance Editors for a number of years.
"It's a rich and rewarding community to belong to. The members are involved in all types of writing and editing, and it is an environment of constant learning. There's a lot of talent among the members and information to take in. It's one of those careers without limits. There's always some new direction to go and something new to engage in. It feels wealthy and worthy."
On leadership styles, Caralee observes that people are different and there is no one way to lead. "Women tend to network and have a more inclusive style, and men tend to have a stand-out from the group style. But these are overgeneralizations, and both methods have great merit and success. There is also a thousand little difference in-between that have nothing to do with gender. Individuals bring all sorts of skills and knowledge and styles to the mission. So, I suppose, good leaders are just good leaders. But any skill, style or technique can be developed."
She's looking forward to helping other women develop through a new volunteer role this year. "I was recently asked to start on with the Women in Leadership Foundation in 2014. I'm looking forward to the chance to meet some like-minded people and take up some new challenges. I hope I have a lot to offer, and I welcome the opportunity to grow within this organization. The group has inspirational, inventive programs and is devoted to developing women in leadership."
Caralee offers this when asked if she's ever been steered in the wrong direction through poor advice. "I can't think of anything off hand, but it probably had something to do with knowing your limits, or it's too late, or some other such fictional tale. This is the epitome of terrible advice."
Marija Pavkovic Tovissi
MaKami College
www.makamicollege.com
www.queenesther.ca
Whether it's making a sales "first", starting a private college or creating a charitable foundation, one thing about Marija Pavkovic Tovissi is instantly clear.
No mission is impossible.
"At 21 years of age, I told people I was going to start a college. People laughed at me loudly but no one is laughing now. I knew I was going to start a college and there was no one that could stop or belittle my dreams into changing my mind," she said. Founded in 2001, MaKami College is a provincially credited massage therapy school. It now operates more than one campus and offers the only certification program of its kind in the province.
Marija's drive was motivated by her family's experience as new immigrants.
"We came to Canada as immigrants in 1987 when I was just 7 years old. My mom worked two jobs during the day, went to school at night to learn English, and later, went into nursing and the whole time made sure my brother and I were taken care of. Hot food was always on the table, we had cool clothes to wear to school and she never missed out on one of our events. When she slept, I have no idea, but she really inspired me to start a private college. Her plight to get educated in this country and offer us a better life was the inspiration for what we do now," she said.
At age 29, Marija created a foundation to help newcomers to Alberta to pursue education. "I am truly passionate in assisting others to achieve their educational dreams whether it be through my business or our charity. It is seriously what I get out of bed for every morning. When I can educate a man or woman and that person gets a better job or career because of that, and is better equipped to support their family, I am just thrilled. I know their children will have more opportunities and entire generational lines are altered in a positive direction," Marija added.
Marija believes that for women in business and in leadership positions, training and professional development are vital.
"Being a great leader, knowing when and how to delegate, train, advise and inspire others are such important skill sets. Should you not already have them, training and personal development in these areas are so key. In order to sell your vision to others, you must also be a great sales person or partner up with someone who is," she said.
She learned both skills early, and it's forever shaped her philosophy about gender and leadership.
"I do not see myself as a "woman" entrepreneur. I am simply an entrepreneur and feel every woman should take this approach. While building my business, I worked in a commercial real estate office with all men. I was the only female sales person in western Canada. Everyone treated me as a novelty but my numbers and hard work stood out for itself. I got an award in 2005 that used to be called the "salesman" of the month award that they had to change to "salesperson" of the month because of me, when I surpassed everyone in our office that month for sales. I think male or female, all of us lead differently and that's ok."
She recommends that aspiring leaders and entrepreneurs surround themselves with mentors and advisors, paid or unpaid. She credits her "dream team" of advisors to helping her achieve success.
"Please go out there and get yourself a team of advisors. It could be an accomplished friend, a government agency, a network contact, a business coach but find people you admire that are successful in their field and ask them for advice, take them out to a coffee and see what they have to say. Then listen humbly and take it all, learn from their success and even from their mistakes and apply that all toward your own passions," she said.
---

Christine Dubyts | www.dubytscom.com
Christine Dubyts is crazy about marketing and helping businesses stay in business, grow and prosper. As a fempreneur she has a special interest in working with other women business owners with their marketing and business growth efforts.