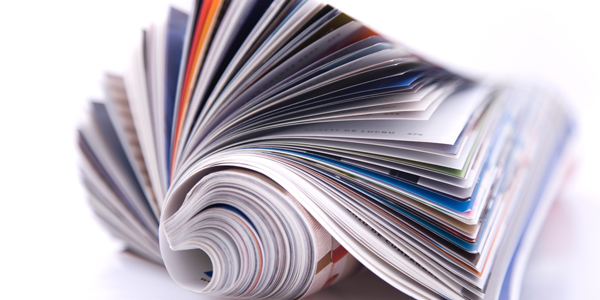 Make your message last!
As the world shifts toward a digital advertising platform, businesses are wondering if magazine print advertising, or "ink on paper", has become obsolete. The answer is a definite "No". Print advertising continues to provide value for every business. It is an extremely powerful medium, and when combined with other marketing channels, it becomes even more effective. Print advertising is here to stay.
How will your business benefit from magazine print advertising?
Gain credibility - Advertising in a high-quality publication with a loyal readership gives your business credibility. Compared to websites, printed publications like magazines are more likely to be perceived as a trusted source. Content within a magazine is part of a reliable source, making the readers more likely to purchase a product or service.
Reach new customers - Advertising in a reputable magazine is a great tool to grow your business network and enhance word-of-mouth referral. I print my own glossy portfolio magazine to showcase my past work as well as enhance word-of-mouth referrals - a tool that will work for your business too. Loyal readers are inclined to pass along a magazine they like to customers, family, friends and business colleagues.
Make your message last - Print is permanent and long-lasting, unlike TV and internet ads that are gone in a moment. A magazine print ad has a long shelf life, gets read and stays in circulation as long as the publication does - maybe for months or years. No other advertising method provides that much potential longevity from a single investment.
Increase your website traffic - Magazine ads bridge the gap between the physical and virtual world. Reinforce your brand's message, drive traffic to your website and introduce new products or services. Provide QR (quick response) codes so shoppers can use their smartphones to link directly to a promotional ad, video, webpage, contest, coupon, etc.
Use visual appeal - Magazines offer attractive and engaging high-quality photo reproduction in luxurious full colour. Readers love to look at eye-catching glossy ads again and again, but often only skim over website ads.
Target your market - Magazine advertising is targeted and allows you to control who sees your ad. If you need to reach your audience immediately, and do not already have an established database of social media followers, print advertising is a fast way to reach new customers.
Whatever your business, the right magazine print advertising will help your business reach its target market and increase sales.
---

Yoko Chapman | www.ayokodesigninc.com
Yoko Chapman of Ayoko Design Inc. can help you create an effective ad for both print and web marketing. She has done marketing, branding and merchandising for local businesses for over 13 years.