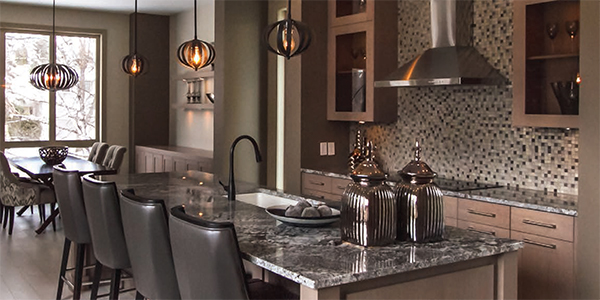 Money Well Spent
Having a great office is crucial (see April Issue WBOToday Magazine) but planning your living space is important for your overall sanity! Here are some ideas to help you plan and organize your personal space.
Clients often ask us "Where should I spend my money when working with a Designer?" We would like to say project satisfaction is greatly increased when money invested is on the entire process - from the initial design ideas down to the final touches of accessorizing! If we're working with a limited budget we encourage clients to invest in the bones of the design - the floor plan.
INVESTING IN THE FLOOR PLAN
A floor plan is a tool that designers use to organize space according to a homeowners functional and lifestyle needs. It is a client's required and desired elements placed in a scalable drawing. It will explain to a contractor where wall demolition will take place and where new walls will be constructed. It will show a client how furniture will fit in the space, and precisely where new and modified lighting should be located. A successful plan will optimize a home's square footage, provide a layout that can stand the test of time and predict a home owner's needs, both present and future.
Room locations, their sizes, site lines to focal points, how one travels through the space, function, acoustics, family lifestyle, flexibility and economics are all considered during this phase. "Massaging the heck" out of a floor plan is the key to successful living and adding value and interest into a home.
THE BISGGEST BANG FOR YOUR BUCK
Out of all the rooms in a home; kitchens and bathrooms give you the greatest value in return investment, and a floor plan makes sure all plumbing is "just so" the whole space is being utilized to its full potential before building.
For the 2013 Lottery house, we exhausted our planning process (as we usually do). Used every nook and cranny, and made what might have looked like an "unusual" space at first glance on paper into an interesting, highly functional asset. This ensuite is dynamic in both floor plan and volume. It offers the homeowner several spaces within a small area to do their thing. Intimate and boutique – like in feel, there is a separated area for freshening up and bathing, and a private room beyond where the toilet is enclosed. We planned for a large walk in / dressing space, distanced from the bed, so no one still asleep is disturbed! The soaker tub is high-lighted as a room feature. Accented by sculptural lighting fixtures and positioned beside a 3 sided fireplace! Circulation is plentiful. Drama is present. Comfort is ideal.
Our grandmothers knew that the heart of the home was the kitchen, and today, we continue to return to that philosophy. We connect with family at the dinner table, engage in lively conversation, drink wine and "may" even join in on the preparation of the meal. While the sociable kitchen has changed in technology, it still reflects the values of the past.
Planning location for this space is vital. For budgetary reasons keeping plumbing locations contained versus spread throughout the home is ideal. We capitalized on its close connection to the courtyard and deck for outdoor entertaining and dining ease... Not to mention providing a great view for whoever is on dinner duty! And, of course having that perfectly balanced connection between the eating area and great room for the interactive, forever talked about party is imperative. At least it was in this house! Private and social life is balanced. Form follows function. Comfort is ideal.
Spending part of your renovating or new house build budget on a wisely laid out floor plan reminds us of the saying - "If you fail to plan, to plan to fail."
---

Lynn Fenwick | www.fenwickinteriordesign.ca
Lynn Fenwick is the owner of the highly successful firm: Fenwick & Company Interior Design. For 20 years, she has played an integral part of creating award winning showhomes throughout Winnipeg. In addition to that, Lynn & her team have designed million dollar homes for the Health Sciences Center Lottery as well as for individual clients. The firm focuses on both residential & commercial projects, with renovation playing a large part of the firmís work.