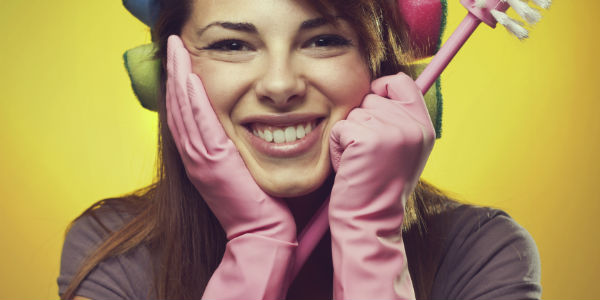 Spring is here - Get your House in Shape!
Angela Howie, the owner of Polished Cleaning Services ( www.polishedclean.com ), offers end-to-end total household management. "We strive to meet each client's unique needs and help them find balance in their lives. We offer household cleaning, organization laundry, errands, grocery shopping, and any other household chore you can think of. We also assist with commercial/business cleaning and after construction cleaning. We are reliable, professional and consistent," said Angela. "We have a 'Pay It Forward' program where our clients can nominate people who may need assistance in cleaning (this could be someone who is elderly, ill or even that single mom who needs a much deserved break)," she continued.
Here are Angela's tips to help get your house ship shape:
Plan:
Start with a plan- go through each room and write down what you want to accomplish. Chunk off your plan over a couple days, so you do not get overwhelmed and quit. Set daily time limits of what you want to accomplish. For example- tackle each room for an hour a day. Don't forget to add closets- they need some TLC too
Initial Sweep:
Grab a box and a large garbage bag and starting at one end, do a walk-through of your entire house. Scan each room, quickly grabbing anything you see that you know is either garbage or no longer needed. Place items in either the donation box or the garbage bag. Keep going until you've made your way through the entire house. ? Even if you don't make it through the rest of the steps, you've already made a ton of progress!
Closet Organizing:
Now is the time to start thinking about putting away your winter boots and exchanging them for rain boots. What is the best way to store your winter gear till the snow visits again?
First wash and dry everything so that it is fresh for packing. We love sorting items by family members. We went to our local dollar store to purchase zipable bags for everyone. Label each bag. Place in bag with a dryer sheet and store at the top of your hall closet.
Wash and dry ski pants and jackets. Store in suit bag (again found at the dollar store) till next year. Anything outgrown, put aside for charity.
Boots- wash liners, scrub and dry. Place in a Tupperware container for next year. Empty out your shoe Tupperware from summer/spring and replace with boots.
Blinds:
We love this simple trick to get your blinds dusted and cleaned efficiently.
Make a mixture of tea tree oil and water. Tea Tree oil is a natural disinfectant- and will help repel dust between cleanings.
Grab two old socks, dip and wring out your solution. Open your blinds and clean each slate. Every couple blinds, re-dip your sock in the Tea Tree Oil solution. For wood blinds, follow up with a dry sock to polish the blind dry. If you do not have tea tree oil around, use one part water, one part vinegar and a couple drops of olive oil. The oil will repel the dust.
Dusting Walls:
Focus on one wall at a time. Remove pictures, and hanging items. Dust them separately.
Take a micro fiber mop- keep it dry and dust your walls. Use the micro fiber for baseboards and vents too. Once complete, spot clean walls with micro fiber cloth and vinegar/water solution.
The tea tree oil water mixture you made for your blinds works well on your baseboards. Again the great thing about this solution is that it disinfects naturally and repels dust.
Junk Drawer:
Everyone has the dreaded junk drawer full of odds and ends that we can't seem to part with. Spring is the perfect time to tackle this area. We love an idea we saw on Pintrest to keep this drawer neat and tidy.
Sort your items according to function in a muffin tin. They are easy to access and neat. Now you have a drawer that is functional and not at all 'junky'.
Angela Howie's favorite cleaning product is Tea Tree Oil. "At Polished Cleaning Services, we believe in non-toxic and ecofriendly cleaning. One of our 'go to items' is tea tree oil. Tea tree oil is a natural antibacterial/antifungal agent. I highly recommend purchasing it from your local pharmacy/grocery store. By adding a few drops to water, you can make great all purpose, ecofriendly and safe cleaner for your home," she advised.
Here are some other ways Angela says you can use tea tree oil in your cleaning endeavors:
· Add a few drops in to your kitchen garbage to eliminate odor- I do this with every garbage bag change.
· Cleaning- add 10 drops to a spray bottle filled with water, Spray down counters and use for cleaning. Let this mixture sit on tough food build up for 5 minutes, wipe.
· Fruit Flies- put one to 2 drops in a bowl, leave around your fruit. The tea tree oil will repel the fruit flies.
---
Written By: Angela Howie