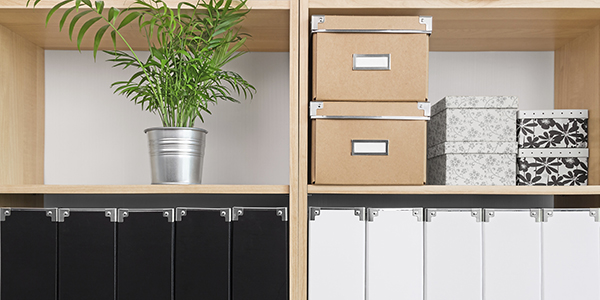 The Fempreneur's Home Office
With so many women joining the workforce from home, and with so many different options to choose from when thinking about a home office, many women business owners may find themselves wondering where to begin and what they really need to create a space that works well for them. Ideally, our home office should support us in living our best work life and reaching our business goals. An ideal situation is a separate room available for a home office, however, many times we incorporate an office into an existing guest room, corner of a living room or even in a bedroom. And, more often than not, we aren't the only person who uses the space! Whatever your situation, here are a few rules of thumb to follow, as well as some essential elements to incorporate, from my experience creating and working with multi-functional spaces.
THE BASICS
BEGIN WITH A PLAN
To avoid falling victim to what I like to call the Shiny Object Syndrome, any good design begins with a plan. More often than not, and due to fantastic advertising by retailers, we first fall in love with the look of a piece in a home store or catalog, then try to make it work in the room. It's like building an outfit from a pair of shoes, a belt or a great handbag: it's successful at times, but it's more difficult than if you had an idea ahead of time of what actually worked. Of course, you still want your home office to be aesthetically pleasing, but think first about how the room is used the majority of the time and begin designing your room from there, taking into consideration the room's other functions, as well as who will use the room and what their needs are.
CHOOSE COMFORT & FUNCTIONALITY
Comfort and functionality are significant characteristics of any productive home office and versatile furniture is always the best choice, as it adapts easily to different needs. Versatile pieces, like a beautiful armoire, eclectic sideboard or wall-mounted storage and organizational pieces, are useful in almost any room and function in a multitude of ways. I love to use them to hide the necessary but not-so-pretty office equipment like printers and computer towers. You can always re-purpose them should you decide to purchase new pieces later.
As well, you'll likely spend the majority of your time sitting at your desk, so invest in the most comfortable chair you can find and leave as much surface area as possible for work functions, like writing, computer time and bill-paying.
INCORPORATE STORAGE
Whether you are a financial planner, teacher, skin care specialist or freelance artist, you likely need storage. Storage is always at the top of the needs list, particularly in a multi-functional space. Builtin or wall-mounted storage not only looks better and gives a high-end look to the room, it takes up less floor space than free-standing pieces. It also works better if it has adjustable shelves to allow you to update your look and function as much as you like. If you have open shelves, give thought to backing them with mirror or even wallpaper with a sheen to it, to give the illusion of additional space and to create a custom look. If you prefer doors, consider those with a mirrored front to achieve the same effect.
The most effective way to manage clutter is to create organizational zones for your items based on function and how often you use them. For instance, if you are a sticky note fanatic like me, consider creating a note board above your desk only for these reminders. Your storage and organizational system is only good when you use it!
USE AMPLE LIGHTING
Lighting is one of the essential components of a good workspace. I once had a client who dragged the only floor lamp in the room to his desk area each evening when he would work in his home office area. When I asked him why he didn't simply purchase a desk or wall-mounted lamp, he replied that he didn't know which one to buy or what he needed. I think this is a common issue, so when it comes to a home office or other workspace, task lighting is easier on our eyes than overhead, general lighting, particularly in the evening. Choose lighting that illuminates your workspace rather than lighting that shines directly in your eyes and you will feel less eyestrain at the end of the day. If desk space is at a premium and you have a cabinet over or around your workspace, consider pendant lighting, puck lighting or other under-mount lighting.
THE FUN THINGS
BALANCE
As with any space, we want to create a room in which we truly want to spend time and the key is balancing the functionality of the room with the decorative elements that are aesthetically pleasing to the eye. Finishing your room with decorative elements like draperies, a rug and personal items, like family photos and your children's artwork, help any office become personal and inviting and balance out the functional areas you've created.
USING THE UNEXPECTED
You may also enjoy using the unexpected as functional accessories that are in line with your design aesthetic. For example, I design for coastal homes and small spaces and one of my aesthetics is using coastal-inspired elements in design concepts. In my own office, I use a large shell as a business card or paper clip holder and I've incorporated a woven sisal rug for texture. So, think about balancing the functional items with fun pieces that speak to you, as well as the look and feeling you'd like to create.
DRESS YOUR FLOOR
Rugs are an anchor and can be one of the jewels to any space and they're also a great way to add color and your own personal touch. Much of a room's personality – as well as your own - can be conveyed with the right rug. If you have contemporary taste, try one with bold colors and geometric shapes and if you prefer something more traditional, a floral or Asian-inspired rug may be more to your liking. However, when considering one for your home office, choose a low pile and opt for one of the hard plastic sheets that will allow you to roll around easily in your chair. If you prefer not to use this sheet, choose an office chair without casters, as they can be difficult to use on a pile rug.
MAKE SPACE FOR THE KIDS
Women who work at home often find themselves balancing work and mom-time and more often than not, children are curious about what Mom does when she works or they want to be with you in your office. You may find that when they want to be a part of your work area or work day, you're on top of each other or they want to be in your workspace. My solution to this has always been to give them a part of the office that they can call their own, even if it's a small table, portion of the credenza or part of a file drawer. Give them a desktop organizer, cubby or organizational board of their own on which they can post drawings, reminder notes or other fun items. If your children are budding artists and you frequently find their items all over your desk, give them their own shelf or wall space so they feel like they are still part of the office and to allow you to retain your own organized space. The imagination of a child is endless and you may find that it lightens up your workday to see them taking after you in their own special way.
Any time you're choosing the fun things for your home office, keep in mind how often décor changes seasonally. Every three months or so, there will always be a new trend, so choose items that really speak to you and that can be changed out inexpensively. If you like, you'll be able to create a fresh new look a few times a year and indulge that Shiny Object Syndrome from time to time as well! In the end, it's all about beautiful, balanced space that is uniquely yours.
---

Nicole Cavanaugh | www.cdgdesign.com
Nicole Cavanaugh is owner and principal designer of Cavanaugh Design Group, providing interior design consultation and services both in-person and virtually for homeowners living on or near the coast, those struggling with small or difficult spaces and chemotherapy treatment centers. She is passionate about assisting her clients in living a fuller, more abundant life through creating their ideal interiors that are fresh, beautiful and well-designed.