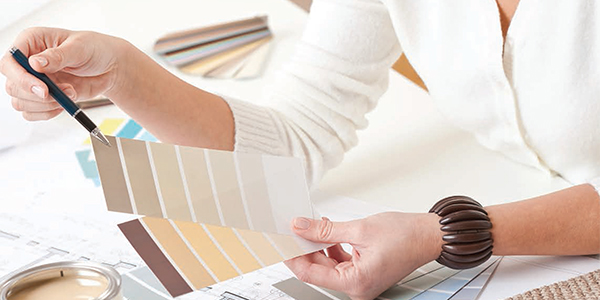 Tips for Designing a Small Home or Office
Have you ever noticed that as women business owners, our offices tend to be on the small side?
Whether an office, apartment, condo or home, small spaces often bring their own unique challenges. Designing one to fit your needs is an additional challenge. However, if you know what to keep in mind, you can have a luxurious, welldesigned room. One that feels good, feels larger and helps support you each day.
Here are some of my best tips for creating a great basis for a smaller home or office:
Color is one of the biggest elements in the overall feeling of a room and I'm often asked if it's OK to use color on the walls in a small space. Yes, but if you want your room to feel open, light and airy, use a white tone on the walls. This may seem boring; however, there are many other things you can add into the room to make it look and feel amazing. A white palette adds an element of freshness to any space and if you want to play up the light and bright qualities of your small room, white will help maximize any light source, whether it's a window or a lamp. Pay attention to the undertones (green, pink, yellow) in any color you decide to use to ensure it doesn't clash with other elements in the room, like the flooring, or your room may look off in terms of color.
Consider painting out architectural features, like the window trim, fireplace, bookcases, etc in the same light color. This creates a canvas that your eye perceives as one continuous piece. The less your eye stops as it travels around the room, such as on a brick-colored fireplace or on a different trim color around the doors and windows, the more open and expansive the room will feel.
To allow your eye to travel around the room uninterrupted, also choose furniture that allows your eye to travel around the room. Chairs, sofas and ottomans with legs are good choices, as are pieces made of clear Lucite, which is one of the hot interior design trends for 2013. Your furniture doesn't have to be the same color as your wall. You can use furniture and accessories as opportunities to bring in a little color for visual interest.
Make sure the furniture you choose is scaled to the space. It's perfectly fine to have one larger piece to help anchor the room. However, that doesn't necessarily mean that a massive, heavy piece will work. When shopping for furniture for a small space, consider the scale of the other pieces in the room and work to create a balanced space in terms of visual weight. For example, one medium to large piece used with other furniture pieces that are similar in visual weight will work much better than one large piece paired with spindly, slender furniture.
Use your vertical wall space. One of the most overlooked areas in a small space is the walls. Walls bring a great opportunity to provide storage and to continue to move the eye upward, further making the room feel larger and more expansive. Hang your window treatments closer to the ceiling to draw the eye upward or use a fabric with a vertical pattern, like a stripe, that helps move your eye up the wall.
Following these tips will help you create a cohesive, happy, well-designed small space. Your home is where you begin and end each day, so take your time. Above all, choose things you enjoy that have meaning and will make you happy.
---

Nicole Cavanaugh | www.cdgdesign.com
Nicole Cavanaugh is owner and principal designer of Cavanaugh Design Group, providing interior design consultation and services both in-person and virtually for homeowners living on or near the coast, those struggling with small or difficult spaces and chemotherapy treatment centers. She is passionate about assisting her clients in living a fuller, more abundant life through creating their ideal interiors that are fresh, beautiful and well-designed.