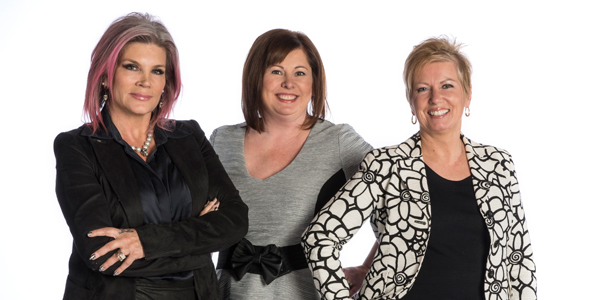 Trading Heels For Steel Toes
The number of women-owned businesses continues to rise around the world, but our presence is hugely underrepresented in a few 'big revenue' industries, according to American Express', "State of Women-Owned Business Report," published in August 2013.
Are little girls' inclinations to choose dolls over trucks to blame? Have we socialized our daughters to choose the former, or are they born with the desire to play with dolls in pink dresses? Well, fortunately we have plenty of psychologists, sociologists, and other '..gists' to debate these questions and we're not going to weigh in on that subject here. In this feature we'll tell you about three pioneering women entrepreneurs working in nontraditional businesses in Manitoba, Canada. We asked them pointed questions about why they traded in their heels for steel toes, what their challenges are, and what advice they had for other women looking to enter these industries. Here are their stories.
Nadine Speirs
The Metal Depot
www.metaldepotltd.com
In 2007, Nadine Speirs was sitting behind a desk working for GE Capital in its Asset Based Lending division. A single mom of an energetic eight-year-old boy, one of her clients presented the opportunity to purchase a custom-fabrication sheet metal shop. What did she know about metal fabrication? "Little to nothing," she admitted, "but I figured, I was comfortable enough with the construction and building industry and the staff were willing to work with me." Within 5 weeks she had left her employer, cashed in her RRSP's, borrowed from her mother and became the proud owner of the Metal Depot Ltd.
"I realized that I was already so heavily invested in work that entrepreneurship couldn't possibly take more than I was already giving, and with this new venture I would possibly be paving a better future not only for myself, but for my son as well," said Nadine.
The Metal Depot is a custom sheet metal fabricator servicing South Manitoba and Northwestern Ontario. They also resell metal roofing and wall cladding, representing companies such as Westman Steel, VicWest, Agway, and Domtek.
Under Nadine's leadership, the Metal Depot has provided custom metal fabrication solutions to contractors responsible for such projects as the Winnipeg International Airport, Winnipeg Transit, Winnipeg Police Headquarters, as well as the Buhler Centre and Maple Leaf Foods. The Metal Depot also works with smaller contractors and homeowners – educating and coaching both through small to medium size roofing and cladding projects.
Nadine prides herself on her ability to surround herself with great people and said the best thing she ever did to grow her business was to work with the Women's Enterprise Centre of Manitoba (WECM). Through a market segmentation analysis, they helped her realize she was falling prey to the 80/20 rule, spending 80% of her time and effort pursuing a market segment that would only ever provide 20% of her profit.
We asked Nadine if she ever considered closing up shop and she didn't hesitate: "Absolutely! When your bank manager has you on speed dial, your suppliers have you on COD and you're faced with potential widespread layoffs due to seasonality and lack of capital – you bet I have considered closing!" But with conviction she continued, "As an employer my staff have entrusted me with their livelihood, have made commitments both financially and personally… this honor and responsibility keep me going and pushing me through the harder times."
Like many women in business, Nadine agreed that women business owners face the same challenges as their male counterparts but that women's methods of communicating, coping and prioritizing tend to be quite different. As is her way, Nadine spoke frankly: "I find dealing with staffing issues is a challenge as I tend to want to avoid confrontation – maybe a more typically female trait. I care (often too much) about everyone's happiness and whether or not they'll agree with my decision, or like me more or less because of that decision. I want staff to WANT to do the right thing, rather than forcing them to – I want to motivate the people around me as opposed to wanting to control them – again, possibly a more female, nurturing position to take."
Her advice to women in non-traditional or male dominated industries is to: "NOT try to be more 'male-like'. Gain your credibility based on your performance and skills." She continued, "Don't underestimate the incredible strength and power you have by just being a woman. Tap into your own intuition and natural abilities to communicate, to care, to engage – revel in your "woman-ness" instead of trying to succeed in spite of it!"
When Nadine's not working or spending time with her son, you might find her popping jelly beans or enjoying a much deserved day at Ten Spa.
Debbie Zajaros
North End Spring Ltd.
www.northendspring.ca
Debbie Zajaros was a bright, shiny graduate from Red River College when she started to consider her life options. In 1993 she took an interest in the family business, North End Spring Ltd., learning it from the ground up. She started off doing odd jobs then moved into the accounting role where she got a good handle on the numbers of the business.
In 2005, a single mom with two small children in tow, Debbie said 'yes' to purchasing the family business when her mom and dad were considering their succession planning options. And while her parents retired from the business, they were a rock-solid support system for Debbie, looking after her girls on sick days, picking them up from school, and being the voice of experience when situations at work required another point of view.
North End Spring Ltd. is a wholesale distributor and repair shop for suspension components for trucks and trailers. The company has a 10,000 sq. ft. facility in the heart of the trucking sector on Rte. 90 in Winnipeg. The wholesale side of the business ships parts throughout Manitoba, Saskatchewan, Nunavut and Northwestern Ontario. The repair shop specializes in HD trucks and is able to custom fabricate for their applications, which are mostly in mining, logging, farming, and construction.
North End Spring employs an onsite blacksmith who can modify suspensions of large and unique vehicles to fit the customer's specific requirements for height and capacity.
Was it a challenge? Debbie responded, "When I look back I think I must have been crazy trying to do it all, but the chaos was worth it. Today I have a daughter at the University of Dalhousie, my youngest is in Grade 9, and I am remarried to a wonderful man who works in the same industry."
Debbie told us her most challenging decision was made on the heels of one of her biggest milestones. "Within a month of paying off the loan for the purchase of the company, my landlord told me he was going to sell the property. I had to decide if I should go back into debt and buy it or move the business. After crunching the numbers I decided to buy the building and property, taking control of our future and the sustainability of the business."
Being a woman in an industry almost entirely dominated by men has tested Debbie's perseverance. When she started, "Customers would call and ask to speak to a man. It took a while but I learned not to take it personally, and today it's not a problem because most of the men I speak to realize that I know as much if not more than they do about this business."
Debbie has strong family values and her father, Gordon Shawcross, has been her inspiration and mentor, providing her with incredible advice on a wide variety of topics both professional and personal. Being close with her daughters and vacationing with her family are cherished times and Debbie works to ensure she plans time away with them.
Debbie's advice to fempreneurs in male dominated industries? "Surround yourself with people who have strengths where you have weaknesses, and don't take it personally when men challenge your knowledge—prove them wrong instead."
Colleen Munro
Hugh Munro Construction Ltd.
www.hmcl.ca
Colleen Munro grew up riding in tractors beside her dad and believes you can absolutely be a product of your environment because she is living proof. She was involved in the family business at an early age, first as a passenger and observer. Then she jumped into the driver's seat of a packer, graduated to other machines, drove the parts truck and worked in the office. The highs and lows, the risks of entrepreneurship and the family sacrifices in order to have a successful business were part of her everyday life.
Today Colleen has a family of her own, an amazing daughter, and a husband who put his Los Angeles career on hold to move to Winnipeg so Colleen could be closer to Hugh Munro Construction (HMC) and the day-to-day management it requires. Colleen's husband, Burt Lancon, "Is an active father in our daughter, Steele's, everyday life. Together we're breaking the stereotypes of men's and women's roles in families."
Hugh Munro Construction Ltd. is a major player in Western Canadian heavy construction. Some of what it does includes earthmoving, rockworks, aggregate production and fibre optic cable installation. Not a job for just any woman.
But Colleen brings different qualities to the table than her male counterparts and these have served her well. "As a woman, I may motivate and converse with employees in my industry different that my male competitors," she said. "I believe every disadvantage for women in the industry can be turned into an advantage. We do not have to run our companies in the same manner men do. We can bring our own feminine strengths. When you are the only woman heavy-construction company owner in the meetings, you can be sure your male counterparts will always be interested in what you have to say and to be remembered. Women are usually better collaborators and conciliators and will put their egos aside for the best results."
One of her biggest challenges and also one for the construction industry in general is recruiting and retaining employees. "To help solve this issue we have invested in First Nations Partnerships and look toward their communities for experienced operators for projects. We run numerous training projects to facilitate this relationship and we also regularly promote employees to alternate positions to create depth of knowledge and resources," she said. Colleen explained that the people at HMC are key to the company's success. Many who started with her father are still with her. "I was lucky enough to inherit a business that had a solid reputation based on my father's integrity. I would like to believe he passed on his successful qualities of fairness, truthfulness and honour of your word."
Construction is understandably a male dominated industry. It's not 9-5 and, "Unless you have a supportive partner or you are single, it is a challenging field for women."
Colleen didn't have to think long to answer the question about having a mentor: "My father, Hugh Munro, is my mentor. Even though he passed away almost 6 years ago, he is in my head every day. He may not agree with all of my ideas today but he taught me to work hard, make my decisions with a pure heart and respect all people whether they are employees, subcontractors, business associates or clients." And while business is important, Colleen's husband and daughter are the ones that motivate her to be a better, more balanced person.
Her advice for other fempreneurs in male dominated industries: "Recognize your intuitive strength as a woman. Only emulate male role qualities that are good and leave the rest alone. Learn whatever you can from either male or female entrepreneurs; most of the problems are genderless. I believe being a woman in a male-dominated business is a blessing, not a curse. Revel in the knowledge that you will be instrumental in setting the example in the next generation that allows girls to know their business choices are limitless."
---

Christine Dubyts | www.dubytscom.com
Christine Dubyts is crazy about marketing and helping businesses stay in business, grow and prosper. As a fempreneur she has a special interest in working with other women business owners with their marketing and business growth efforts.